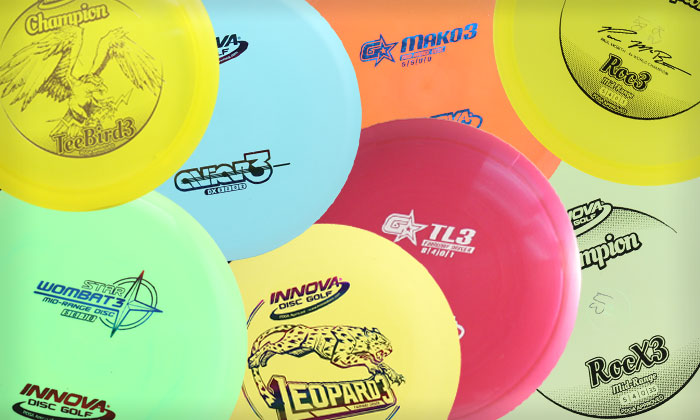 Wondering about Innova Golf Discs with "3" in the name?
In the last few years Innova Disc Golf has released a retooled version of many of their most popular discs with a number "3" at the end of the name, such as the Roc3, the Leopard3 and the Teebird3. Many people ask what differs between these new versions of their favorite Innova golf discs and the original models.
TL;DR
In a nutshell, discs in the "3" Series...
Have a flatter top
Are faster than their namesake models
Built for control and speed
Have a lower profile, therefore are less affected by wind
Originated during development of Paul McBeth's signature Roc3
---
What does the number "3" mean in Innova golf discs?
Basically, it comes down to speed and control. The top "dome" of the disc has been flattened somewhat, which reduces aerodynamic drag, allowing the disc to travel faster through the air.
With this modification, the disc's flight path is also less likely to be changed by gusts of wind that would otherwise redirect the disc in flight. Experienced players know that on windy days you can't beat a flat-top disc for consistent, predictable flights despite a raging headwind.
This characteristic of being less prone to flight path variation also translates to a disc that is more likely to go where you point it, despite small variations in your throwing speed. Point and shoot!
Background: History of the "3" Series Molds
Innova wanted to create a signature Roc for Paul McBeth and since this was the third variation of the Rancho Cucamonga Roc, it was nicknamed "RC3". Apparently this simple moniker stuck as they went with "Roc3" for the official new name. Eventually, they applied this new performance feature to other discs in their lineup, resulting in the "3" Series, which now includes an updated version of many Innova classics. See below for a list of "3" Series molds currently available:
Disc golf models in the Innova "3" Series
These are the discs currently available in the Innova 3 Series: