Austin Montgomery
---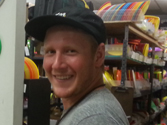 Austin is a professional disc golfer from Fort Collins. In 2011 he won the disc golf event in the World Overall Flying Disc championships. In 2012 he was on the team Collegiate National Championship with Colorado State University, who is still ranked number one in the country. He also won first team All-American honors in 2012. He is sponsored by Discmania golf discs and Fade Gear bags. Austin attends CSU where he is a earning a degree in Philosophy with a concentration in Ethics, he is also working in his Business minor.
In his bag...
Distance Drivers
Discmania PD2 Chaos (S-line & C-line): The best wind driver on the market. It will fade no matter what. Great choice for spike hyzers and any fierce wind. I have yet to find a disc that is as overstable as the PD2 while maintaining a fair amount of glide.
Discmania DD2 Frenzy (S-line & C-line): My fastest playing disc in the bag. Great for long bombs or crush anhyzers. The DD2 falls right between a Boss and a Katana in stability. If I need to go long it's a DD2.
Fairway Drivers
Discmania PD Freak (S-line & C-line): One of my favorite discs in the bag. I can use a PD for any shot. It's a great versatile driver whether it's a spike hyzer or a flex shot I can trust the PD. The thin rim makes it very controllable as well.
Discmania DD Hysteria (S-line & C-line): The driver I throw the most. The DD has a consistent flight in any condition. This driver is a very safe driver to throw on almost any shot.
Discmania FD Jackal (C-line flat and domey): This disc will never leave my bag. If I need to hit a tight line this is the disc. Handles wind decently considering it's a fairway driver. Great for anhyzers or straight shots with fade. I love this disc.
Mid-Range
Innova Champion Gator: A slower version of my PD2 and Firebird. The gator can hold up in any wind. Awesome hyzer disc. I love throwing it for sidearms as well.
Discmania MD2 Fiend (S-line & C-line): My go to mid-range. Great torque resistance. Awesome for straight approaches, slow hyzers, anhyzers, you name it. This disc is huge for me.
Putt and Approach
Discmania C-line P3: This disc is new to the bag. It's great for throwing off the tee. It can handle a lot of snap while maintaining a predictable fade at the end of flight. It falls right between a putter and a mid-range for me.
Discmania P1 Maniac (S-line & P-line): I love this putter for upshots. My S-line is super straight with a little fade. My favorite is definitely my P-Line. I will throw this for any shot 200ft and in. Its soft so it settles right by the basket. It can hold a anhyzer for days. Great disc.
Discmania P-Line P2 Psycho: My go to putter. It's firm and durable. The same mold as the popular KC Aviar without the bead. Basically Discmania took the two most popular putters of all time, the KC Aviar and the no bead Aviar and combined them. It can handle wind but still has enough glide to get in the basket.
Which bag is he using?
Fade Tourney Bag with Fade Weatherguard Straps: I'm a fan of this solid and spacious bag for many reasons, but with its huge disc capacity I always have what I need for every shot. The weatherguard straps help when the rain rolls in mid round with a quick-deploying rainfly to keep my bag dry.
His advice to up and coming players...
My advice to up and coming players is to always have fun playing the sport. Whether you are 13 over par or 13 under remember why you started playing the game... to have fun! Always play with better players if you can help it. Playing against tougher competition will force you to improve your game. Odds are you will learn something new when playing with the better players anyway. Try to keep an open mind when your on the course or practicing, there is always something new you can learn whether its a new grip or a different mechanic on your drive. The game can never be mastered, you can always shoot one stroke better. Never be content with where your at, you can always get better.
Chris Brubeck
---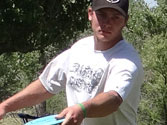 Chris began playing disc golf shortly after his senior year of high school in his hometown of Eagle, CO. He became enamored with the sport and played the entire summer after work just about every day until it was dark, even though his parents weren't very fond of this. Chris was accepted into Colorado State where he began studying turf grass science in anticipation of becoming the superintendent of a golf course one day. He continued to play disc golf every day until it was dark, and also in the dark, so it didn't matter a whole lot either way. He is a snowboard instructor at Beaver Creek in the winter and also grew up coaching Special Olympics with his dad every Sunday in Vail. Chris jumped up to the pro level in 2012 and has been steadily improving every day.
In his bag...
Distance Drivers
Discmania C-Line PD2 Chaos: The most overstable disc in my bag. It's good for headwinds, sharp hyzers, and forehands as well.
Innova Champion Destroyer: My main overstable driver. I usually throw it for just about every kind of shot. Backhand, forehand, and thumber shots.
Innova S/DS Star Destroyer: This is my most overstable destroyer. It's fast, trustworthy, and won't really flip over in a strong headwind.
Discmania P-Line DD2 Frenzy: Used for distance shots. A little bit more overstable than a Katana. Good for tailwinds but not in a headwind.
Fairway Drivers
Discraft Z Venom: Another specialty disc. I throw skip shots or a shorter, sharp hyzer with it. My favorite part, though is it is a very good disc to throw a thumber with.
Discmania C-Line FD Jackal: Great fairway driver. I have a flat one and a domey one. Flat can be trusted more and has a ton of glide with a predictable fade. The domey one flips over more and can be touchy, but still has a good home in my bag.
Mid-Range
Discraft ESP FLX Drone: The most trustworthy midrange there is. Good for everything. You can throw it as hard as you can and it will still come back.
Discraft Cryztal Buzzz: Great straight, predictable midrange. Everyone needs to have a buzzz in their bag, or at least a roc.
Discraft Elite X Stratus: Utility disc. Used for huge turnover shots, rollers, and tunnel shots that need to land soft.
Latitude 64 Opto Fuse: Used for controlled upshots and tunnels. It has tons of glide and loves to stay up in the air. A little touchy for most people but once you figure this disc out, you will love it.
Putt and Approach
Discmania P1 Maniac: My favorite putter to throw. I have four in my bag, each with different amounts of wear so they will do different things. Very predictable, very smooth. This is a disc that will shave some strokes off every round you play.
Gateway Eraser Wizard: My main putter. I have one that I throw and one that I only putt with. Very predictable flight and finish. You can use it in a headwind with no problem and the plastic that is used by Gateway is unparalleled by other companies.
Which bag is he using?
Grip Tour Bag: A great bag for the player that lives on the disc golf course. My old bag was ruining my back due to lack of support and since I play constantly, had to make a change for the better. The Grip bag has a nice contoured fit on your back and has a chest strap for added stability and comfort. Since I switched bags, my back-pain has decreased and stamina increased. I like the versatility of the many pockets on the bag because people seem to use the same pockets for different reasons. It has plenty of space for all my discs and the shape of the compartment keeps them from spilling out even if my bag tips over. I definitely made the right switch for the better. This one is worth checking out!
His advice to up and coming players...
My advice to up and coming players is to play all you can, whenever you can, and never get discouraged. You don't have to be the best in the world, but make sure that when you practice, try to do it in the same manor every time. Practice doesn't make perfect, perfect practice will result in better play. Also, putting is the most important thing to get better at. If you putt for at least 15 mins a day every day, you will see a drastic improvement in score. Watch lots of videos, play lots of different people, ask questions, and mold your own unique style based on what you gather from others. No one player has the exact same game. Don't try and mimic what a great player does. Simply find little bits of their game and find a way to apply it to your own.
KC Terry
---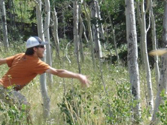 KC is a Fort Collins native who started playing disc golf back in 1993 on the original CSU campus course. He's been playing disc golf professionally since 2006 and has many strong finishes to since then. He avoids aceing holes at all costs, preferring instead to "park" holes so putting isn't required. Also a fan of snowboarding, music and riding bicycles, he's enjoying his time at the Wright Life and in the vibrant Fort Collins disc golf scene.
In his bag...
Distance Drivers
Innova Champion Dominator: A great straight flyer for maximum distance drives. Not too overstable so its managable for players with moderate arm speed. I find the Dominator is a disc I can work on all angles: hyzers, anhyzers, or bullet straight lines.
Innova Star Katana: The Katana has a lot of play in its flight, so it is a good one for sky anhyzers or shaping drives out in the open. I've found it to be as fast as any disc I've tried yet. Great for max-distance!
Fairway Drivers
Innova Champion Firebird: This is one of two discs in my bag that have been there nearly as long as I've been playing professionally. The Firebird is a great tool for special circumstances: spike hyzers, skip shots and mean headwinds.
Discmania C-Line PD: I like the PD for shorter-length headwind drives, and have found it to be my go to disc for straight, accurate sidearm shots and smooth, pinpoint backhand hyzers. I really like the feel of this disc in the hand too, both for sidearm and backhand shots—it just fits comfortably, which give me added confidence in the shot.
Discmania S-Line FD: I picked this one up hoping it would replace my TL, but it ended up taking the place of the Teebird instead. Great glide, possibly a bit of added speed compared to the Teebird and a really consistent, straight flight path makes this my go-to fairway driver these days.
Innova Special Edition TL: This is the other disc that has been in my bag forever—probably continually since 2002. I haven't found a driver that I can throw as straight for as long as the TL. Perfect for those tough spots where you have to hit an impossibly-tight line to get out of the trees. Also doubles as my main roller disc. Downside: not a very durable plastic, resulting in a short disc-lifespan.
Mid-range
Innova Star Gator: This is the Firebird of my mid-range discs, which means I use it mostly for headwind approaches and unusual shots like short, sharp hyzers around obstacles, shots that need to sink fast, and short skip shots.
Innova Roc3 (Glow and Champion plastics): The Roc3 felt comfortable almost as soon as I put it in my hand. The glow version gives a slight, extra bit of stability. Stable, but not beefy, you can lay into it pretty hard with only minimal flip. It flies a lot like the old CE Rocs after they were broken in for a couple years. Be cautious into a headwind though, as it will turn over slightly with too much power.
Discmania S-Line MD2: I use the MD2 for hitting short tunnel shots or for turnovers. It is easy to turn over and will hold that line till nearly the end of its flight. This also means it can be flipped over too much as well, so it is a disc that requires some finesse, especially with a softer plastic like the S-Line.
Putt and Approach
Discmania C-Line P3: This really is one of the best putters for throwing off the tee. It's remarkably resistant to turn at high-speeds, and not overly stable as it slows down. This makes it pretty easy to throw far and straight without having to manipulate the starting angle or having it turn hard at the end of its flight.
JK Pro Aviar: I like the JK Pro Aviar for medium-long upshots, as it has a slight bit of stability. To keep it from turning over, and a gummy, flexible plastic that helps it stay where it lands. I've stopped throwing it off the tee, as that soft plastic makes for some inconsistency in the release angle.
Discmania P-Line P2 Psycho: I was putting with the standard DX Aviar for many years until recently, but made the change when I got a hold of one of these. The shape is really close to the Aviar, but the plastic is firm and stiff, reducing wobbles in the air and unexpected redirection from the disc bending in your hand before release. I wouldn't recommend this disc to all players, but for those who have developed a solid technique already, it may help to further refine your putt.
Which bag is he using?
Grip EQ A-Series Tour Bag: I can't say enough how much I like the newest version of the Grip bags, the A-Series. I upgraded to this one last spring from the Revolution Carolina with backsaver straps, and I noticed the difference instantly. The Grip has a way of making that same number of discs feel like half as many. My only criticism is that the storage area is a bit thinner and elongated, so you have to be a bit creative how you pack things in. That being said, there is ample room—probably just as much as my Carolina bag, and maybe more. The high-quality construction makes it well worth the purchase!
His advice to up and coming players...
As they say, "drive for show.. putt for dough". This is true! Spend some time practicing that critical final shot and your scores will improve very fast. Don't think about your technique when playing, only when practicing. It is better to loosen up and let your body do what it has learned during practice. Most of all, have fun! Never forget why you got into the game. And always call people when you find their lost disc on the course!